Fly & Sail Expeditions
Antarctica21
An Expedition to Planet Earth
There's still a side of the Earth that remains virtually untouched. An entire continent of windswept expanses, snow-shrouded peaks, and haunting emptiness stretching to the far horizon. A place where ice takes on hues of turquoise and iridescent blue so surreal, you feel you've entered a dream world. Where even as you reach for words to describe your sense of awe, you realize none will ever capture the experience of being here.
Landscape
A land that holds 90 % of Earth's ice, Antarctica stuns visitors with its awe-inspiring beauty. See peaceful bays dotted with colossal icebergs; cruise along deep fjords and see massive glaciers; be amazed by sharp snowy peaks that jut out of the sea.
Adventure
Feel the spray of seawater on your cheeks as you cruise in a Zodiac boat to shore. Follow in the footsteps of early explorers as you hike on Antarctic soil. Join our optional Sea Kayaking and Hiking & Snowshoeing programs.
Wildlife
Penguins, whales, seals, and seabirds congregate in Antarctica and South Georgia during the austral summer. Present in large numbers, you can move along in their world and find endless inspiration for photographs.
Memories
Setting foot on the seventh continent is a privilege and an honor. You will bring home unforgettable tales, and your journey will arouse the curiosity and admiration of your friends and family.
The Antarctic Air-Cruise
We pioneered a new way to travel to Antarctica and what we believe is a better way – providing quick, intimate access to the White Continent.
Before Antarctica21, travelers who wanted to reach the Antarctic Peninsula had only one option: a 2-day sail across the notoriously rough seas of the Drake Passage. However, since 2003, our boutique wilderness adventures have offered a more comfortable alternative.
Fly The Drake
Our two-hour flight takes you from Punta Arenas, the Chilean gateway to Patagonia, directly to Antarctica, where you then board your expedition ship. No stormy crossing. No seasickness. Just quick, total immersion in your Antarctic adventure.
Explore Antarctica
Our small expedition vessels are more like private yachts, offering direct access to areas along the Antarctic shore that larger ships simply can't reach. Since we have fewer guests, you get on and off faster, so your time ashore is focused where it should be: savoring every moment of a travel experience unlike any other.
KEY BENEFITS
Comfort: Avoid storms in the Drake Passage
Speed: Get to Antarctica quickly and save time
Size: Enjoy a small-ship, small-group experience
What makes Antarctica21 unique ?
As a niche specialist, we dedicate 100 percent of our time and resources to creating your Antarctic adventure.
Air-Cruise Experts
We pioneered the air-cruise to Antarctica. That remains our focus. As specialists, we understand intimately how to coordinate air and sea operations in the changeable Antarctic environment. We have completed over 200 fly and cruise departures, more than any other company, and we bring that experience to your journey.
Antarctica is our Neighbor
Our company was founded in Punta Arenas, Chile, the gateway for the first Antarctic explorers. As a local company in this remote region, we have built a solid infrastructure and an extensive network of key relationships to support your expedition.
Explorers House: A Warm Welcome
Located only a few blocks from your hotel, Antarctica21's new Explorers House is your exclusive base in Punta Arenas. Feeling like a private club, it is a purpose-built open space where you can prepare for your expedition by attending briefings, practicing your Zodiac-boarding skills, shopping for expedition gear, and more.
Flight Advantages
Unlike some companies, Antarctica21 uses a single flight to carry all guests on an expedition to and from the White Continent. We also have priority over the flight window, allowing us to choose the optimal flight time based on conditions. For you, this means efficient operations and a reduced chance of weather-related delays.
Boutique Ships
Our small expedition ships welcome a maximum of 73 guests. That means disembarking and embarking in Antarctica is faster and smoother. You spend more time exploring, not waiting for your turn.
Private Antarctic Vehicle
Our rugged, go-anywhere polar transporter, custom-designed and built for Antarctica21, supports your trip's operations at King George Island. Its traction system can adapt to the changeable conditions of the Antarctic terrain.
High Staff-to-Guest Ratio
On every journey, our Antarctica21 team includes at least 12 expert polar guides and their number one priority is ensuring you have an unforgettable experience. Our team knows the region's unique geography, natural history, wildlife, ecology and loves sharing their expertise with you.
Our Company
Antarctica21 was founded in 2003 by adventurers who believed there was a better way to travel to Antarctica. This season our company celebrates 20 years of successful operation.
From the invention of the Antarctic air-cruise to the building of the first Antarctica21 ship, we continue in our quest for innovation and sustainability.
Our Style and Philosophy
As a boutique specialist, we design and deliver adventurous yet comfortable small-scale expeditions to Antarctica. We aim to offer guests the perfect balance between active exploration and high-quality hospitality.
Our Team
International Antarctic pilots, experienced sea captains, expert polar guides, academics, and seasoned travel professionals create the Antarctica21 experience. With passion, creativity, and teamwork, each expedition is handcrafted, unique, and personal.
Commitment
Antarctica21 is the leader in this fast-growing segment of Antarctic tourism, constantly developing and innovating its programs and operations. As a member of the International Association of Antarctica Tour Operators (IAATO), and a CarbonNeutral® certified company, we consider every detail of our planning and operations, working to reduce our environmental impact.
Itineraries at a glance
8 Days / 7 Nights
Classic Antarctica
The Classic Antarctica Air-Cruise is our most popular itinerary. Once arriving by flight to Antarctica, you will sail between the South Shetland Islands and the western coast of the Antarctic Peninsula. Enjoy seeing ice-filled fjords and spectacular icebergs, while spotting penguins, seals, and whales that call the White Continent home. This trip is available on both our expedition ships.

· The most popular itinerary
· A complete Antarctic experience
· Frequent departures

From Dec 1st, 2022 to March 2nd, 2023, 28 departures are available on both vessels, contact us for the dates !
From USD 11,495 to 27,995

From Dec 1st, 2023 to March 1st, 2024, 28 departures are available on both vessels, contact us for the dates !
From USD 11,495 to 28,995


10 Days / 9 Nights
Polar Circle
The Polar Circle Air-Cruise is one of the most adventurous expeditions that we offer. Our main objective on this air-cruise expedition is to try and reach the Antarctic Polar Circle located at approximately 66° south of the equator. The Expedition Team handcrafts every voyage depending on the Antarctic weather and each day of the trip is filled with ample opportunities to explore. Three departures are offered during the 2021-21 season, two aboard Ocean Nova and one on Magellan Explorer.

· In-depth Antarctic experience. Do more, see more.
· Sail farther south to try and reach the Antarctic Circle
· Limited number of departures

Jan 24-Feb 2, 2023 (ME)
Jan 1-10, 2023 (ON)
Feb 16-25, 2023 (ON)
From USD 15,495 to 33,995

Jan 1-10, 2024 (ON)
Jan 24-Feb 2, 2024 (ME)
Feb 16-25, 2024 (ON)
From USD 15,995 to 34,995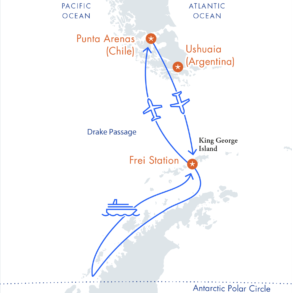 17 Days / 16 Nights
Antarctica & South Georgia
Join us for a remarkable experience that takes you through the western Antarctic Peninsula, through Elephant Island to South Georgia. Sail through the nutrient-rich waters and, each day, disembark with our expert polar guides having time to either hike, snowshoe or kayak in bays nearby. As we make our way to South Georgia, you will follow in the footsteps of famous Antarctic explorers, like Ernest Shackleton, and learn about their daring southerly adventures. After reaching South Georgia, visit some of the largest colonies of penguins in the world, including the king penguin, and see the nesting grounds of thousands of albatrosses.

· Explore Antarctica and South Georgia
· See South Georgia's distinctive wildlife, such as king penguins
· One departure per season

Nov 17-Dec 3, 2022 (ME)
From USD 14,395 to 25,495

Nov 17-Dec 3, 2023 (ME)
From $ 14,995 to $ 26,495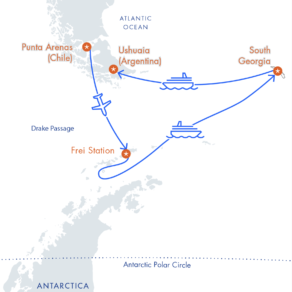 6 Days / 5 Nights
Antarctica Express
Our Antarctica Express Air-Cruise was designed for travelers looking for a quick and affordable visit to the White Continent. This expedition offers you the chance to visit Cape Horn, cruise the Drake Passage, land in Antarctica, and fly back. Five departures are offered during the 2020-21 season, two aboard Ocean Nova, two aboard Hebridean Sky and one aboard Magellan Explorer.

· Introductory and affordable
· Visit Cape Horn and Antarctica
· See a variety of seabirds, including albatrosses and giant petrels

Nov 29-Dec 4, 2022 (ON)
Jan 11-16, 2023 (ME)
Jan 14-19, 2023 (ON)
From USD 4,995 to 8,595

Nov 29-Dec 4, 2023 (ON)
Jan 11-16, 2024 (ME)
Jan 14-19, 2024 (ON)
From USD 4,995 to 8,995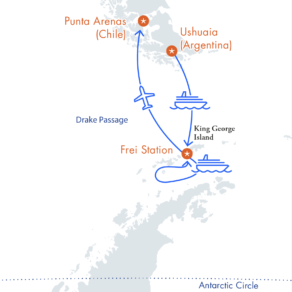 Prices
All prices listed here are per person and depend on the vessel and cabin types. Starting prices are based on triple occupancy on Ocean Nova (ON) and go up to either single or Grand Suite on Magellan Explorer (ME).
For more details on prices and cabin categories, please do get in touch with us.
Vessels & Aircraft
Magellan Explorer (ME)
Innovative Technology · Modern Design · 73 passengers

Magellan Explorer is a modern expedition vessel custom-built for our Antarctic air-cruises. The ship was constructed in Chile to the latest Polar Code specifications and launched in 2019.
For our air-cruises, Magellan Explorer has seven categories of accommodation, including dedicated single cabins. All cabins except Porthole Cabins feature private balconies. All double cabins, except two, have two twin beds that can be configured as one king-size bed. All cabins feature a wardrobe, individually controlled heating system, a sitting area, and a private bathroom with a shower.
The ship features a glass-enclosed observation lounge and presentation room with state-of-the-art audio-visual equipment, a spacious and stylish dining room, a well-stocked bar, a library, a meeting room, a gym, a sauna, and a medical clinic. The forward-facing observation deck leads to the ship's bow, which is accessible to guests to offer proximity to marine wildlife. The ship has a fleet of 10 Zodiac boats that are well suited for disembarking and wildlife watching.
The fitness center aboard Magellan Explorer has been designed and built by the professionals at Anytime Fitness, the world's only fitness company with boutique gyms on all seven continents. For more information, see anytimefitness.com.
Ocean Nova (ON)
Strong and Mighty · Active Adventure · 67 passengers

Ocean Nova is a sturdy and nimble expedition vessel. This ship was built in Denmark in 1992 to sail the ice-choked waters of Greenland. It has an ice-strengthened hull that is ideally suited for expedition travel in Antarctica. Fully renovated in 2006, the ship has benefitted from annual upgrades and improvements since then.
The ship's outside cabins offer three categories of accommodation: dedicated Single Cabins, Twin Cabins, and Triple Cabins. All cabins feature a picture window, a writing desk with a chair, a wardrobe, an individually controlled heating system, and a private bathroom with a shower.
In addition to a glass-enclosed observation lounge and a presentation room, Ocean Nova also has a spacious dining room, a bar, a library, a small gym, and an infirmary. The ship has a fleet of 7 Zodiac boats that are well suited for disembarking and wildlife watching.
BAE 146-200 & AVRO RJ 85
We use three similar aircraft for flight operations: the BAE 146-200, the AVRO RJ 85, and the AVRO RJ 100. These aircraft were manufactured in the United Kingdom by British Aerospace (which later became part of BAE Systems). They are high-wing aircraft with short runway requirements, which make them particularly suited for this kind of destination. It is operated by Aerovias DAP, which has more than 25 years of experience flying in Patagonia and Antarctica.
Preferred Seating
For an extra level of comfort, you can purchase Preferred Seating on your Antarctic flight. This option offers you a guaranteed aisle or window seat at the front of the aircraft, priority boarding in Punta Arenas, and an amenities kit. Please note that due to the nature of the operation in Antarctica, priority boarding is not available on the return flight. Capacity is limited to rows 2, 3, 4, and 5 of the aircraft.
Round-Trip $ 495
One-way $245